Masdar City: an urban miracle?
Throughout history, various ambitious mega construction projects have altered our perception of infrastructure. Traditionally, infrastructure played a crucial role in the interaction between individuals, communities, and institutions through setting a platform for social bonding. For a long while, we showed a great deal of miscalculation and irresponsibility regarding urban environments. With the advent of the climate crisis and the ever-increasing calls for action, stakeholders are now looking for environmentally sound solutions. While the industrialized nations are currently switching to more open and green urban environments, industrializing high-income economies are also enthusiastic about becoming the pioneers of this developmental trajectory.
One of such landmark projects is pursued by the Emirati government nearby its capital city, Abu Dhabi. Masdar City is an innovative planned city that is funded by the government of Abu Dhabi and designed by the worldwide know British architectural firm Foster and Partners. Masdar city is located in the vicinity of Abu Dhabi and covers six sq. km. of a landmass. It is within a five-minute drive from Abu Dhabi International Airport and a 40-minute drive from Dubai. The project was initiated in 2006. The financial crisis of 2008 and the COVID-19 crisis of 2020, pushed the completion date of the project to 2030.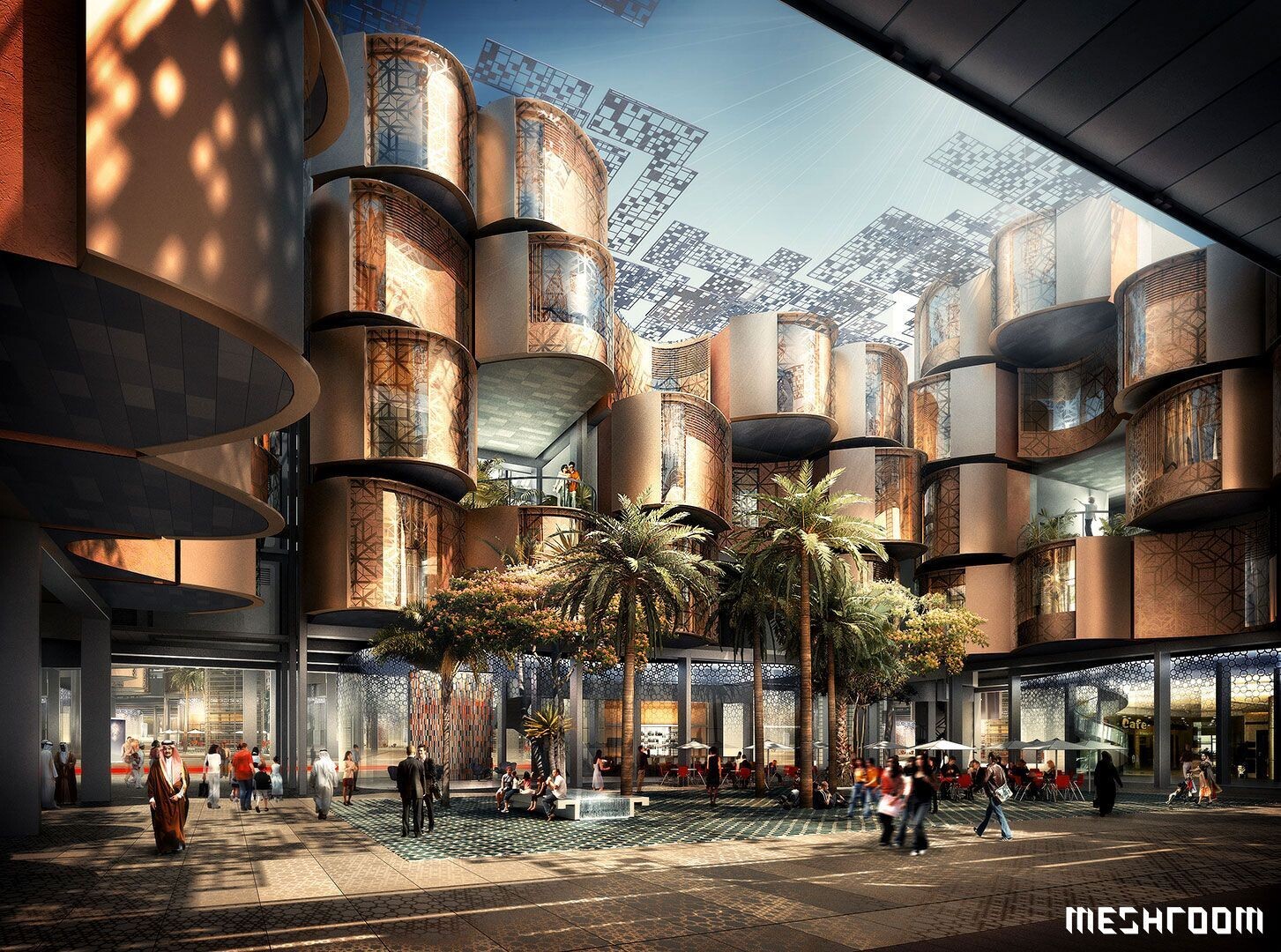 Figure 1: Renders of Masdar City
The city relies on solar power along with other sources of renewable energy. In particular, Masdar is powered by a 22-hectare solar panel field with additional panels on roofs. Light switches and water taps are absent within the premises to reduce electricity and water consumption by 51% and 55%, respectively. Water management strategies are in line with the current environmental standards as well. Approximately 80% of the water will be recycled. As for transportation, Masdar will use a clean-energy mass transportation system along with electric vehicles. The overwhelming majority of private cars will be restricted in access to the city premises. Consequently, Masdar city will be connected to the rest of Abu Dhabi via a metro line.
Masdar City already hosts numerous entities and institutions. The Masdar Institute of Science and Technology is the first major tenant of the City. Today, the institute is a part of Khalifa University. The university offers several undergraduate and postgraduate degrees and already has alumni. It is expected that Masdar City will inhabit around 50,000 people and will host approximately 1,500 businesses. As of 2016, 2,000 professionals and 300 students reside in Masdar. What is remarkable, City's main ambition is to host primarily environmentally friendly businesses, and initiatives. Hence, the International Renewable Energy Agency (IRENA) is also headquartered here. In addition, Siemens employs 800 of its staff in its regional headquarters in Masdar City.
While the project also faces plenty of criticism by raising concerns on communal inclusivity as well as its proposed environmental solutions, we may argue that Masdar City is a promising project that could spark a broader eco-friendly infrastructure movement within the Middle East region.
Javid Ibad
Further Reading